The Asimov prize is a national prize for culture and popularisation of science, whose jury is made up of students from secondary schools.   
The aim is to spread scientific culture among young people, encouraging interaction between schools, universities, and the world of research and encouraging exchanges and opportunities for mutual enrichment with the humanities.
For this reason, students are entrusted with choosing the author of the winning book for the ASIMOV Prize. It is they who have the task of reading, discussing, reviewing, and voting on the popular-science books that have been previously selected by the Award's scientific committee. The committee is mainly made up of high school teachers, but also researchers from the Italian Institute for Nuclear Physics (INFN), from Universities and the National Research Council (CNR), of journalists, writers, and representatives of scientific and literary culture. 
From the students' reviews and votes, the scientific committee infers the winning book, which is announced at a public event where the students are the main players. The scientific committee also has another task: assessing the students' reviews and awarding the most deserving ones. 
During the school year, each site organises activities, e.g. meetings in schools or bookshops to talk about science and books. 
Current edition
The five books of the 2022 edition have been announced during Salone del Libro di Torino.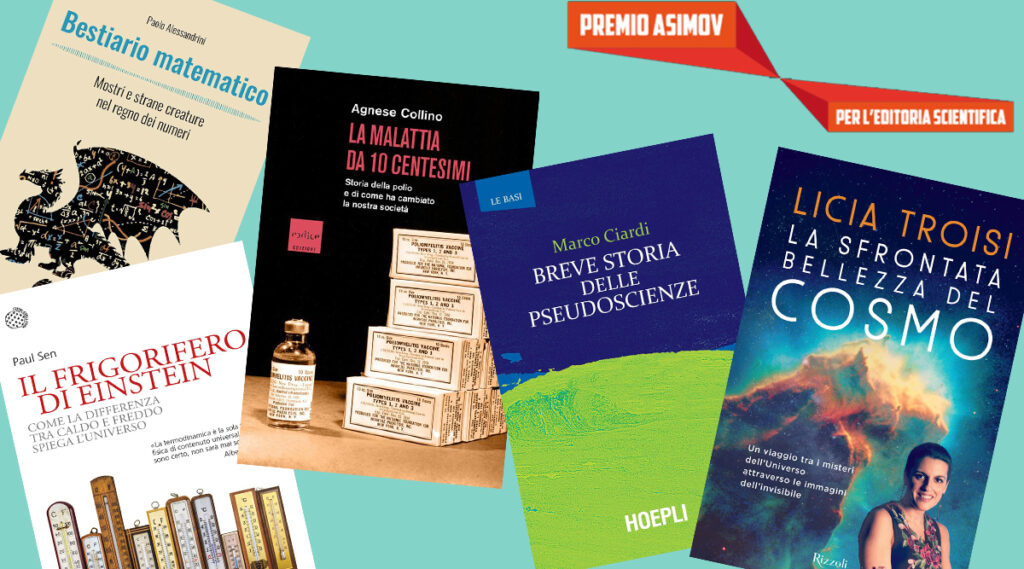 History of the Asimov Award
The ASIMOV Prize was created in Abruzzo in 2015 on the initiative of Francesco Vissani, a research director at INFN's Gran Sasso National Laboratories, who at the time was coordinating the experimental doctorate at the Gran Sasso Science Institute (GSSI) in L'Aquila.  
Since then, year after year, the prize has involved an increasing number of students, teachers, and researchers from the most important Italian research institutes. In 2020, the initiative arrived overseas with the first edition of the Brazil ASIMOV Prize, organised by the Instituto de Estudos Avançados (IdEA) and the Universidade Estadual de Campinas (Unicamp).   
Almost 200 schools took part in the sixth edition, involving a total of 10,000 students. The scientific committee, made up of the regional commissions of Abruzzo, Basilicata, Campania, Calabria, Emilia Romagna, Lazio, Liguria, Lombardy, Marche, Piedmont, Apulia, Sardinia, Sicily, Tuscany, and Umbria, was able to count on the collaboration of more than 700 members. There are more than forty participating institutions in addition to the INFN, the Italian Physical Society (SIF), the Italian Booksellers Association (ALI), and the Accademia dei Lincei and many others.  
INFN cities and sites: Bari, Bologna, Cagliari, Catania, Cosenza, Genoa, Lecce, Milan, Milan Bicocca, Naples, Perugia, Pisa, Pavia, Potenza, Rome 1, Tor Vergata, Turin, Gran Sasso National Laboratories, and GSSI